WELCOME TO A "FIRST-OF-ITS-KIND" COLLEGE INTERNSHIP PROGRAM DESIGNED FOR YOU.
YOU GET ALL OF THIS IN ONE PROGRAM:
(Imagine having all of this for your career preparation and conversations with potential employers..)
An experiential, two-semester, global internship program providing you with the adaptive leadership, cross-cultural training, personal development and professional experience you need to thrive today and in your career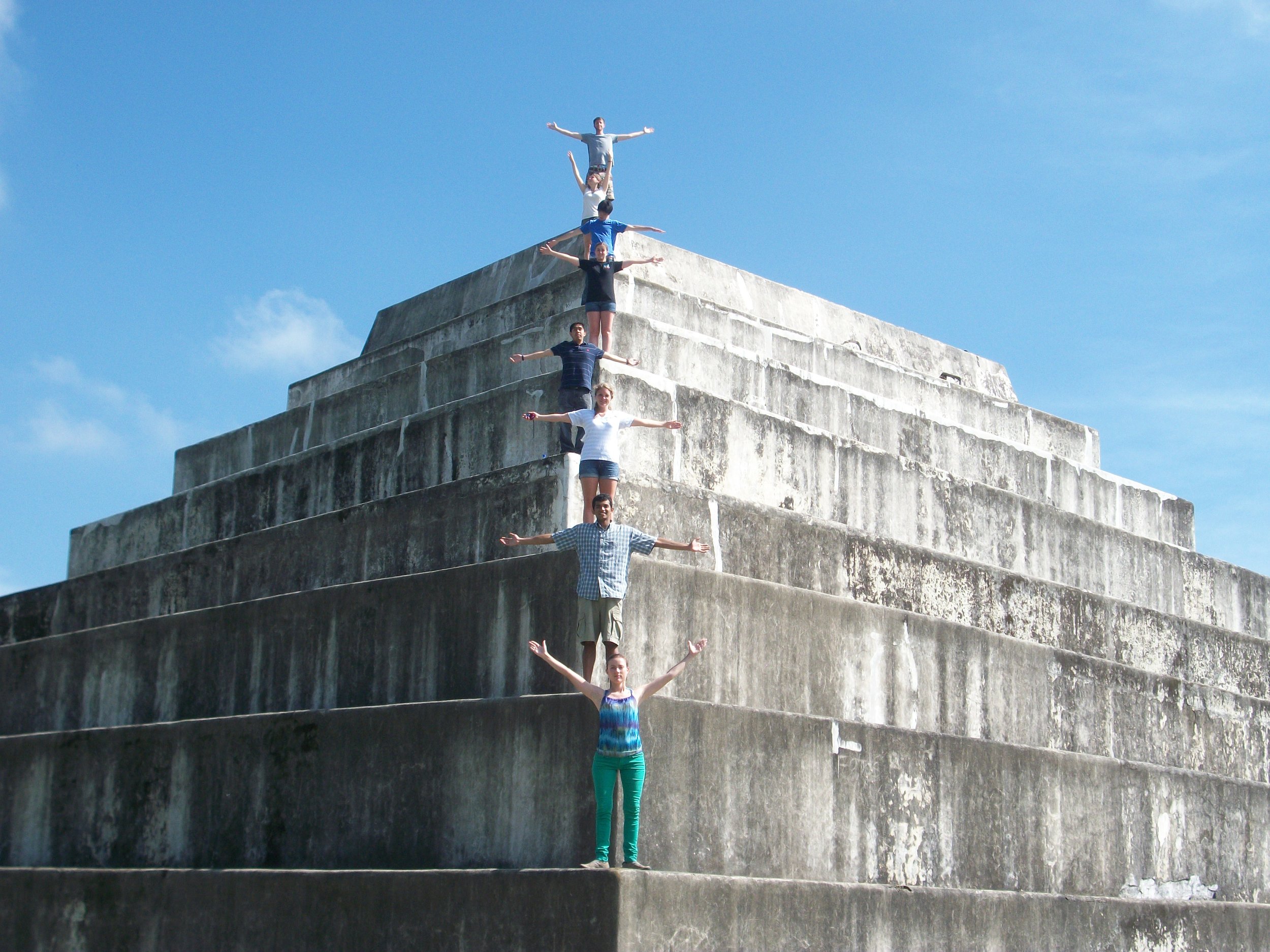 Our co-founder Greg Van Kirk and his team have been leading interns, volunteers and corporate partners in Guatemala since 2005. Starting as a Peace Corps volunteer, Greg and his team have created numerous successful enterprises and award-winning social innovations over the past 17 years. Greg is a two-time Ashoka Globalizer Fellow and World Economic Forum "Social Entrepreneur of the Year." He is also the founder of the micro-consignment model - a transformational empowerment model for rural entrepreneurs that even has its own wikipedia page.
How it works
CREATE REAL SOLUTIONS FOR LOCAL & GLOBAL CHALLENGES YOU CARE ABOUT
phase 1: Learn & Engage
Start on your personalized CAREER X journey

Learn design thinking and get cracking on solving a "wicked problem" in NYC that matters to you

Engage with your small team and start to form deep relationships

Collaborate with young professionals and CEO's from a variety of sectors

Get up to speed on what you'll need for Guatemala
phase 2: Consult & Do
You're off to Guatemala with your team and the group

Take what you've learned and consult for organizations and entrepreneurs that are focused on the same issue area you are addressing in your venture

Live with a local home stayfamily and practice speaking Spanish

Climb an active volcano and zip line over a nature reserve with monkeys (with team building of course!)
phase 3: Combine & Create!
Return to NYC and reflect on your experiences from a personal, educational and professional perspective

Finish creating your social innovation and present your solution to your mentors and executives

Maybe get a little seed funding to help you get started
HOW IT'S DESIGNED
We get it. You're busy with school. No worries. We've designed this for you!
Everyone gets together one Sunday a month. You learn, engage and get inspired by business and social sector leaders who know what it takes to succeed in work and life.
COLLABORATIVE
MICRO-EXPERIMENTS
During flexible times that your small team decides on, you focus on taking action first, seeing how the world responds, adjusting, and taking another small step.
Nine day engagement with organizations and communities in Guatemala where you consult and test your venture in a challenging new environment with your team. All guided by social innovation professionals.
PEER & EXECUTIVE
MENTORSHIP
No one thrives after college without a community of support and guidance. We build that into all our programs - at a peer level and with dozens of CEO's and mentors who want nothing more than to support you. Set up times to get together at your mutual convenience.
DESIGN & CONSULTING EXPERIENCES
You'll develop the design thinking skills and consulting expertise necessary to design and prototype solutions in NYC and Guatemala. You'll come up with your own solutions and help others with theirs. This happens throughout the program.
PERSONAL DEVELOPMENT (EMPATHY & RESILIENCE)
A constantly changing world necessitates a growth mindset, requires resilience, demands being fully present, and being accountable to yourself and others. We help people build these capabilities as a central component in all that we do.
For 9 days you'll work side-by-side with local professionals and our leadership at non-profits and social enterprises serving marginalized communities.
You'll learn how your defined problem for NYC (Poverty? Access to education? Cost of healthcare? Environmental challenges?) is being solved in a challenging developing country environment. You'll learn by doing. You'll consult for an organization tackling the same problem in a different context. This informs your own venture while helping others to create impact.
You'll also learn from and live with homestay families. This is what gaining global competence and learning how to be an adaptive leader and entrepreneur is all about.
This is all led by the award-winning team at Social Entrepreneur Corps. Check out what Neil Blumenthal, co-founder of Warby Parker has to say about the value of this below.
THERE IS NO SUBSTITUTE FOR EXPERIENTIAL LEARNING
Neil Blumenthal, CEO of Warby Parker, on why the unique immersive experience of CAREER X (Social Entrepreneur Corps) is key to career success
OUR EXPERIENTIAL GATHERINGS ARE TAILORED AROUND THE SCHEDULE OF UNIVERSITY LIFE.
NITTY-GRITTY DETAILS
PROGRAM COST:
$4500 10 days in Guatemala, 4 all-day Sunday workshops, 2 additional Wednesday night workshops, mentor sessions and more in NYC
Flights not included. (Limited scholarship opportunities available for financial hardship) Costs can be paid over 3 months.
PROGRAM DURATION:
February 11th to April 29th, 2019
KICK OFF:
February 11th, 2019 9:30am to 4:30pm in Manhattan
GUATEMALA FIELD INTERNSHIP:
March 16th - 24th, 2019 (spring break). All costs covered except flights.
Note: Spanish not required!
GRADUATION:
Warby Parker offices on April 29th, 2019
Why we exist
We see a world changing faster than our university systems can adapt. We recognize the gap: the fundamental skills necessary to thrive in a world we can't even imagine yet - empathy, collaboration, joy & purpose, adaptive leadership and entrepreneurship, to name a few - are not front & center. As parents and educators, we wanted to build a program that ensures our children can flourish in the unpredictable.
See our core values
WHAT PEOPLE SAY ABOUT OUR WORK
GET ANSWERS
We love questions and are always happy to provide the answers. Here are some common questions people have before signing up:
Is Guatemala safe?
Social Entrepreneur Corps has been leading programs in Guatemala for over 10 years and with over 1,000 student and corporate participants. To date we have not had any major health or security issues. Most violence you read about in Guatemala takes place in Guatemala City and the Peten. We do not work there. We work in small, indigenous communities in the Western Highlands where we have deep relationships. And we have health, safety and security policies that mimic the Peace Crops. Greg Van Kirk lived and worked in Guatemala for five years and we understand the environment and what to do and not to do very well. We have expat and local team members working there year round.
What's covered in Guatemala?
In short, everything except for flights. Our team will meet you at the airport in Guatemala and take care of everything else along the way. Just bring you open mind, open heart, sense of adventure and passion.
Who are the mentors and executives?
Good question. Greg and Jeff have built up a broad network of friends, collaborators and partners over the past 15 years. We will leverage this network for your benefit. This includes folks from Warby Parker, Deloitte, IBM, VisionSpring, Ashoka, etc etc etc. You'll engage with young professionals, leaders of large organizations and entrepreneurs who have started their own things. We want to give you broad spectrum exposure and help you think about your own journey by learning from theirs.